Scientific Poster Templates
I got asked for the design of my academic posters. Indeed I have templates in landscape and portrait and I'm happy to share them. In addition I can recommend the blog better-posters which has regularily features and link-roundups on poster-design related things.
In my newest poster (landscape below) I tried to move as much text to the side, so that people can still understand the poster, but it does not obscure the content. I also really like the 15s summary, an easy way to see whether you will like the poster, or you can simply move on. Maybe it even needs to be a 5s summary!
These are two examples posters based on my template.
Neat Features
Titles' backgrounds follow along



This is useful because you do not manually need to resize the white background of the text that overlays on the borders
Borders are effects, easy resizing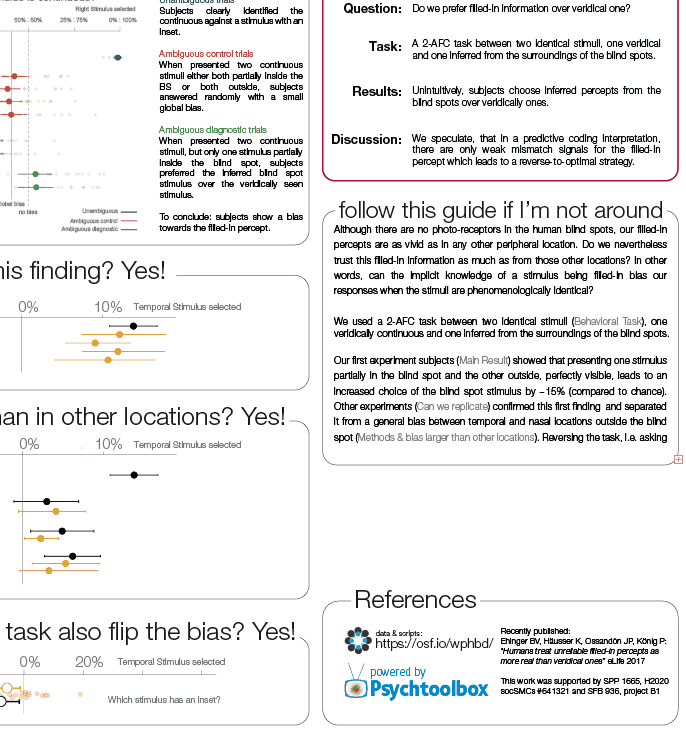 The corners are based on illustrator effects, thus resizing the containers does not change the curvature. Before I often had very strange curvatures in my boxes. No more!
Download here
Portrait Equal Columns (ai-template, 0.3mb)
Portrait Unequal Columns (ai-template, 0.3mb)
Landscape (ai-template, 0.4mb)
Licence is CC-4.0, you can aknowledge me if you want, but no need if you don't 🙂