For my new EEG course in Stuttgart I spend some time to make this gif – I couldn't find a version online. It shows a simple fact: If you calculate the mean, the breakdown point of 0%. That is, every datapoint counts whether it is an outlier or not.
Trimmed or winsorized means instead calculate the mean based on the inner X % (e.g. inner 80% for trimmed mean of 20%, removing the top and bottom 10% of datapoints) – or in case of winsorizing the mean with the 20% extreme values not removed, but changed to the now new remaining limits). Therefore they have breaking points of X% too – making them robust to outliers.
Fun fact: a 100% trimmed mean is just the median!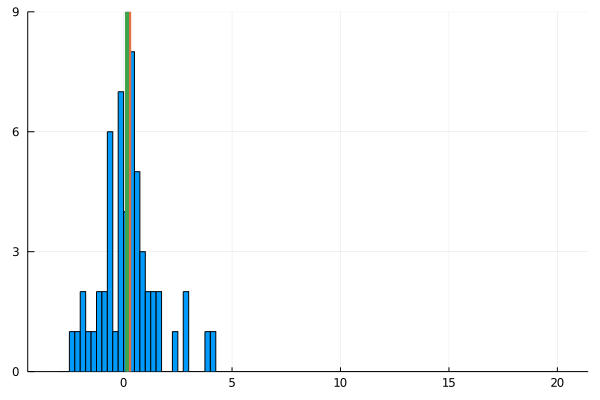 As you can see, increasing the amount of outliers has a clear influence on the mean but not the 20% trimmed mean.
One important point: While sometimes outlier removal and robust statistics are very important, and arguable a better default (compared to mean) – you should also always try to understand where the outliers you remove actually come from.
The source code to generate the animation is here:
using Plots
using Random
using StatsBase

anim = @animate  for i ∈ [range(3,20,step=0.5)...,range(20,3,step=-0.5)...]
    Random.seed!(1);

    x = randn(50);
    append!(x,randn(5) .+ i); #add the offset

    histogram(x,bins=range(-3,20,step=0.25),ylims=(0,9.),legend=false)

    vline!([mean(x)],linewidth=4.)
    vline!([mean(trim(x,prop=0.2))],linewidth=4.)
    #vline!([mean(winsor(x,prop=0.2))])# same as trimmean in this example

end
gif(anim, "outlier_animation.gif", fps = 4)